Do You Show Your Prices Online?
Yes, we do show our prices online!
Will You Do An In-Person Quote?
Yes, depending on the size of the project we can offer free in-person quotes. Unfortunately because of the rising gas prices, smaller jobs may incur an additional fee.
Yes, we are fully insured.
No, we just need to have access to where we are digging. Payment can be e-transfer or taken over the phone when the project is complete.
What Form Of Payment Do You Accept?
At Digging Pro we try to make it as easy as possible for payment. We accept cash, Debit, Visa, Mastercard.
Will You Do Locates For Gas etc. Before You Dig?
For everyone's safety and all post hole digging projects, we use our account with Ontario One Call to identify underground infrastructure.
What Do The Coloured Flags Or Lines Mean?
Red Electric
Yellow Gas/Oil/Steam
Orange Communication
Green Sewer/Storm
Blue Water
Purple Irrigation/Slurry
Pink Temporary Survey Markings
White Proposed Excavation
How Long Does It Take To Dig?
Every job is different. The time it takes really depends on how many holes you require and what we discover when we dig (rocks and roots).
Do you still have unanswered questions? We Are Here to help!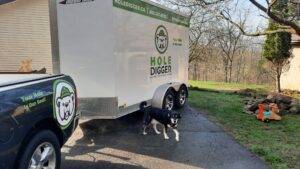 Uncategorized
Our post-hole-digging season kicked off last week with a couple of great projects in the Milton and Dundas area! Our one project was to dig
Read More »